22 May

Wedding in an imposing tower in the island of Aegina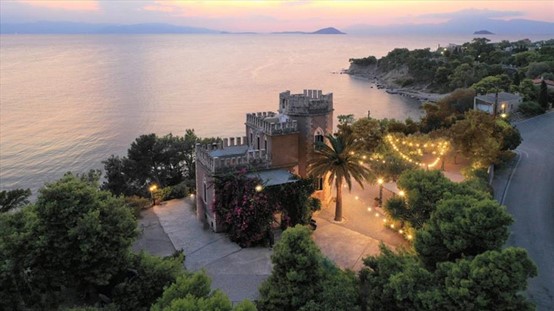 Plan your wedding reception at a historical preserved monument of the 19th century.
This unique work of art combines a magnificent 180 degrees sea view, scented, lush gardens and a touch of Tuscan atmosphere. The imposing building becomes the special backdrop for your romantic and elegant wedding.
Couples who choose to hold their wedding event can rent the apartments of the Chateau and experience a fantastic stay in its atmospheric spaces. The Estate offers a small unit of four independent apartments, where the couple and their guests can stay.
The villa sits at the center of a bay, with stunning views of the sunset of Aegina and the ancient Temple of Apollo. Overflowing with history, elegance beauty, a truly landmark of the island.
Prices upon request depending the period of time and guests
This Tuscany wedding package includes
Reserving the wedding date and time.
Welcome apéritifs.
Flower decorated arch for the Ceremony.
Celebrant's fees.
Wedding reception.
Catering services, exclusive menu including a selection of fine Greek wines.
Open bar and service from a professional bartender.
6 outdoor resting rooms.
Experienced and qualified personnel top level professional service.
Elegant dinnerware and cutlery assorted with fine wine glasses.
Decoration for the bar and buffet with flowers.
Wooden rustic chairs and tables.
Wedding cake.
Wedding planning services from our expert team.
Professional wedding Photographer.
Unique variety of Decoration, table planning, setting and care on the day of your wedding by our expert florists.
String lights.
Bridal bouquet and Groom's boutonniere.
Assistance with the booking of hotels/accommodation. List of suggested hotels.
Exclusive professional bridal Makeup artist and hair.
Constant communication through e-mail what's app and video calls from the first day until the wedding day.
Financial payment plan and constant follow up of vendors.
All day planning services and cooperation of vendors leading up to and on your wedding day.
Experts of Protelia's weddings to coordinate the plan of the day at the wedding venue during the ceremony and reception.
Are you ready to start planning the wedding you always dreamed of?
Contact us today!