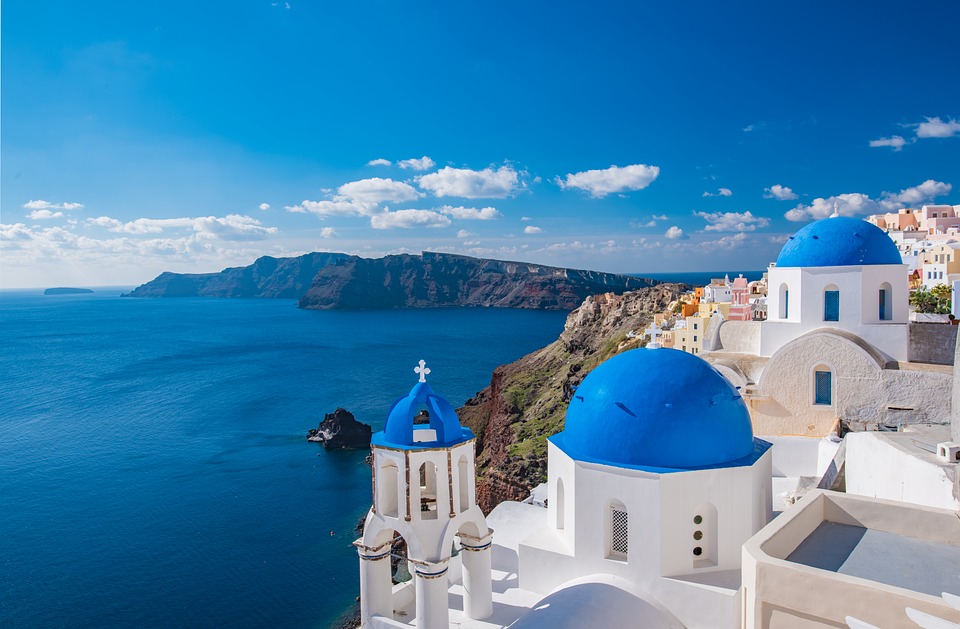 27 Jun

TIE THE KNOT IN SANTORINI – THE PERFECT GREEK ISLAND
SANTORINI- A PLACE FOR THE PERFECT GREEK ISLAND WEDDING
Santorini island is one of the most popular tourist attraction in Greece.  The beach waves, hustle and bustle of the island, delicious food and white walls make the tourists want to stay there forever. That is why, Santorini has been a place for the perfect Greek Island wedding for many years. While planning a destination wedding, most of the people's first option is Santorini Island.
The summer breeze, beaches, mesmerizing locations and the modern classical architecture of the islands accounts for a perfect Greek island wedding.
HOW TO PREPARE FOR THE PERFECT GREEK ISLAND WEDDING
If you have chosen Santorini for a memorable Greek island wedding, here are some things that you should consider before planning your wedding in Santorini.
CHOOSE THE DATE ACCORDING TO SANTORINI'S WEATHER
The peak Greek Island wedding season is from April to October. Make sure to select a date when the weather is moderately cool. As, in Santorini, the temperature can rise to 104 in the summer. Do not plan your Greek Island wedding in the winter season as most of the restaurants and hotels close their gates for the tourists due to the extreme cold. Make sure to select a date when the weather is neither hot nor cold.
BOOK EVERYTHING IN ADVANCE
Most of the wedding planners, wedding destinations, hotels and local vendors are booked in advance. Make sure to book the wedding venue, wedding planner, hotel and local food and decor vendors at least one and a half year before. The peak time for the Greek Island weddings is from April to October. If you happen to have your date in this period, book everything in advance, even your wedding dresses and flight tickets.
CHOOSE A MEANINGFUL LOCATION FOR YOUR GREEK ISLAND WEDDING
Santorini Island is known for its beautiful destinations and locations to hold a wedding ceremony. Make sure you select a destination which is unique and important to you and your partner. Although, Santorini is an island but it has numerous breath-taking destinations for the wedding. Some of them are
BREATH-TAKING DESTINATIONS FOR YOUR GREEK ISLAND WEDDING
DANNA VILLAS
It is lovely wedding terrace,  with a picture perfect volcanic view and a quiet setting. You can take a look at the crystal clear beach, as you take your vows.
THEROS BEACH BAR
Theros beach bar is an exclusive wedding destination on the Eros beach. You can take your vows under a full moon. The decor and the theme of the bar is a hidden jewel.
SANTORINI PRINCESS
Lavish Greek Island wedding  on Imerovigli Caldera. It has a beautiful view and you can enjoy your own wedding by the pool side, with a lavish bar, a restaurant and an open-air lounge for photography.
PYRGOS RESTAURANT
You can plan your Greek Island wedding at a restaurant or at a garden with a panoramic island sight. It is a perfect spot for the Greek island wedding or for the reception.
LE CIEL SANTORINI
You can see a magical sunset and stretched  beach shore, as you take your vows on Imerovigli Caldera.  This place also has a scrumptious variety of food to choose for your Greek Island wedding menu.
FINAL WORDS
There are other mesmerizing and captivating destinations at Santorini, where you can plan your Greek Island wedding for once in a lifetime experience and enjoy your wedding like a real life fairy tale.