27 Mar

Minimal Wedding in Santorini overlooking the Caldera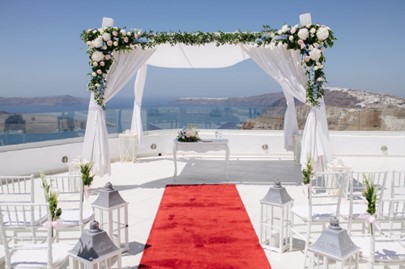 This magnificent venue is offering a panoramic view over the famous Caldera of Santorini and promises to make your special day a truly memorable event.
A fascinating minimal scenery on the Aegean Sea. Famous for the ancient vineyards a unique experience of wine tasting.
The place can host a wedding ceremony in a terrace with breathtaking view to the Volcano and afterwards a unique reception and party.
Estimated budget for 50 guests 20.000€ approx.
This unique package in the most exquisite Greek island includes
Venue booking date and time.
Wedding planning services from our expert team.
Exclusive catering menu.
Exquisite santorinian wines.
Professional wedding Photographer.
Table decoration with candles and fresh flowers, table settings and care on the day of your wedding by our expert florist team.
Gazebo decorated with fresh flowers set up for the ceremony.
Bridal bouquet and Groom's boutonniere.
Executive Transportation of guests from the hotels to the venue and back.
Exclusive professional bridal Makeup artist and hair.
Constant communication through e-mail what's app and video calls from the first day until the wedding day.
Financial payment plan and follow up of vendors.
All day planning services and cooperation of vendors leading up to and on your wedding day.
Protelia's weddings coordinator and set up on the day of the wedding at the wedding location and during the wedding.
Native English speaking wedding Celebrant
DJ & sound equipment
Wedding cake Pastry
Are you ready to start planning the wedding you always dreamed of?
Contact us today!